Arctic Snow and Ice Products, Inc. of Frankfort, Ill., no relation to the excellent firm based in London, Ont., is the leading manufacturer of Snow Pushers in the world. Its flagship product, the Arctic Sectional Sno-Pusher™, was introduced in 2006, and has been the gold standard of the industry ever since. This winter, Arctic is expanding its market presence in Canada with an exciting new product line that equipment dealers have been seeking for some time.
It is nearly impossible to find a large snow contractor in the U.S. that does not have the Arctic Sectional well represented in its fleet. The efficiency and performance demands of property management firms, store managers and corporate purchasing departments has practically forced the serious snow contractors of commercial parking lots to replace their snow pushers (also referred to as box or containment plows) with Arctic Sectional Sno-Pushers™, cutting their plowing time to less than half , while also cleaning so well that that salt usage is also reduced by 50%.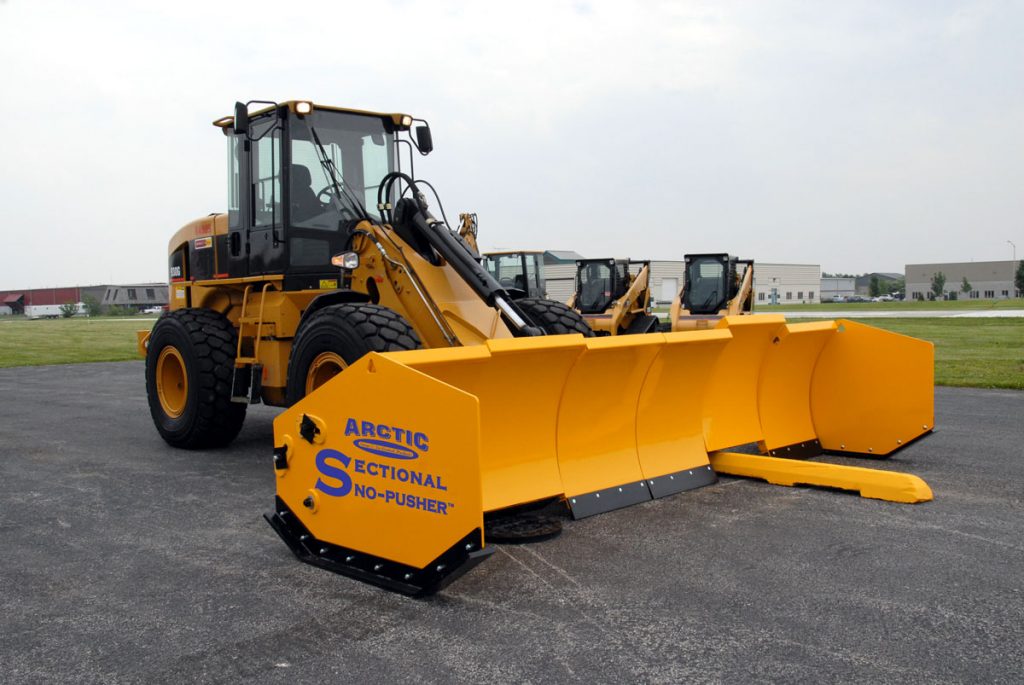 For those not familiar with the history of snow attachment technology, Arctic's "Sectional" featured a revolutionary design made up of independently moving 30" moldboards that tripped over obstacles up to 9" in height, rode over curbs and sidewalks, and hugged the contours of the pavement, giving the cleanest scrape of any other plow on the market. Furthermore, while it was preventing damage to property or equipment, it was also saving operators from potentially serious injury.
The innovation did not stop there however as Arctic also developed and patented the first quick connect universal mounting system with full drop and go capability. The Slip-Hitch™ mount allows the operator to connect and disconnect the plow to any machine's quick coupler without leaving his cab. It also allows a first time operator to plow like an expert as no controls need be engaged to set the plow to its optimal plowing angle, guaranteeing that all four machine tires stay on the ground for maximum traction. The plow attachment stays perfectly level for minimum wear, hence just "drop and go". With every other pusher, the weight of the attachment would literally lift the front tires off of the ground reducing traction and causing uneven wear of the blades.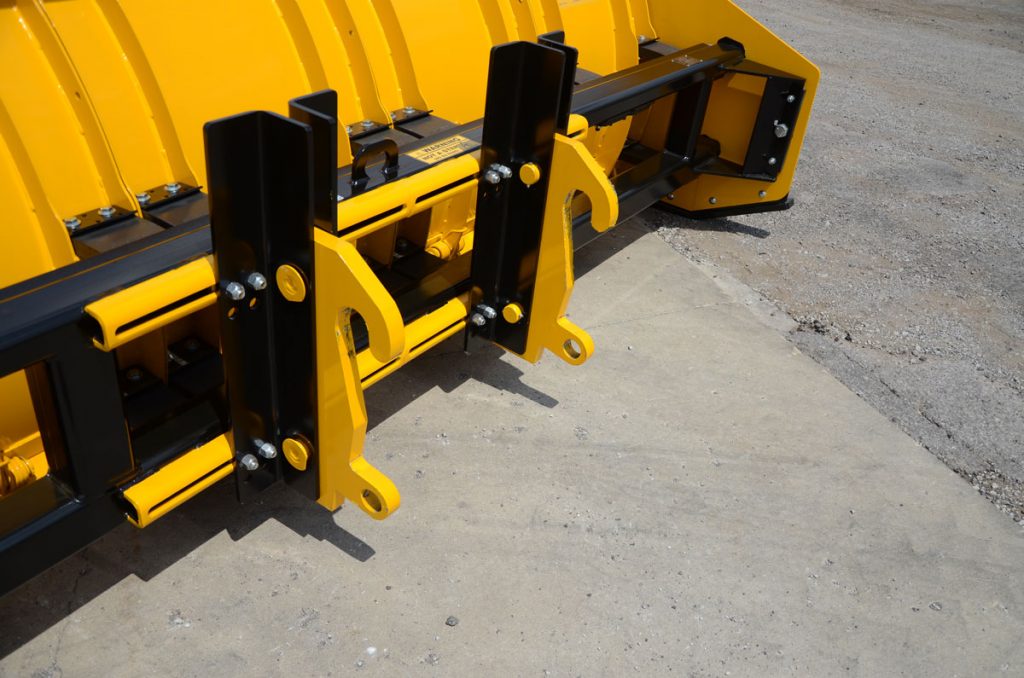 The third critical technology improvement was incorporating polyurethane mounting blocks behind each of the moldboards for additional, virtually eliminating wear on the main system. Previously, if a plow hit an obstacle at any speed, the entire blade would likely need replacing, at a loss of thousands of dollars. Not anymore. Should a Sectional hit an obstacle over 9" in height, the risk is only to an individual moldboard at a fraction of that cost. However, the addition of the mounting blocks now meant that even damage to a single moldboard was unlikely and that now such a collision would only result in replacing a simple polyurethane block for around 50 to 60 dollars.
It is nearly impossible to find a large snow contractor in the U.S. that does not have the Arctic Sectional well represented in its fleet.
When considering the cost savings in time and salt, the incredible safety benefits, the reduced damage to property and equipment, and the lower overall maintenance costs, many contractors determined that their Arctic Sectional Sno-Pushers™ were paying for themselves in one season of use, and almost all of them are still in use today.
All of this technology has been heavily patented and only Arctic has it. Other competitors have tried to compete with innovations of their own, but have not been able to come close without violating patent law.
Which brings us to 2017. Many individuals, as well as dealers, have been asking for additional products to round out the Arctic product line. This year, Arctic Snow and Ice Products introduced the Raptor™ and Raptor Plus™ as a lower cost alternative for contractors that did not need the high performance of the Sectional but wanted some of the same patented technology Arctic was known for, particularly the Slip-Hitch™. Also, municipalities asked for a wingless version of the Sectional for cleaning roads and the Power Angled Arctic Sectional Sno-Plow™ was born. Finally, Arctic R&D engineers had been unhappy with the current technology of salt dispersement and so developed the DoubleDown Salt Bucket™ a year ahead of schedule.
New Products for 2017–2018
Note: All arctic attachments come with the patented Slip-Hitch™ Universal Coupler System and Drop and Go™ Technology
Raptor™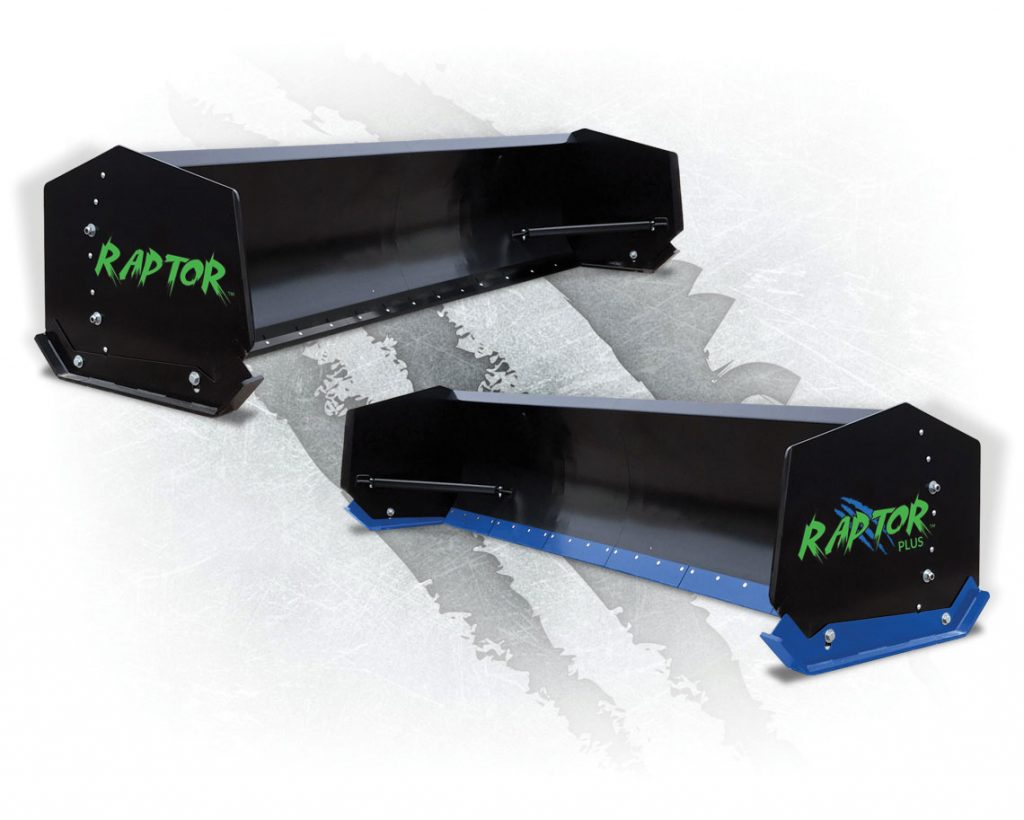 For those applications needing a rubber cutting edge, this is your best option. The heavy duty rubber cutting edge is both slotted AND reversible for an extra 6 inches of wear on both sides! It's ideal for parking garages that do not allow steel blades on their surfaces.
Raptor Plus™
In early trials, this exciting single blade pusher out-performed all of the competition and our expectations as well. Equipped with the famous Arctic Slip-Hitch™ coupler system, spring-loaded steel trip cutting edges and mechanical wear shoes, it was hard to tell the difference in performance between the Raptor Plus™ and the Sectional, and yet the difference in price will turn a few heads. Removable side panels on both Raptors also allow for easier storage and lower maintenance costs.
Sectional Sno-Plow™
This highly anticipated power angled wingless plow is finally here! Everything about this sensational product was designed and tested under the harshest of conditions. Totally "Sectional", this plow has every bit of technology the Sectional Sno-Pusher™ has, plus the best power angle Slip-Hitch™ system on the market today. Nothing comes close!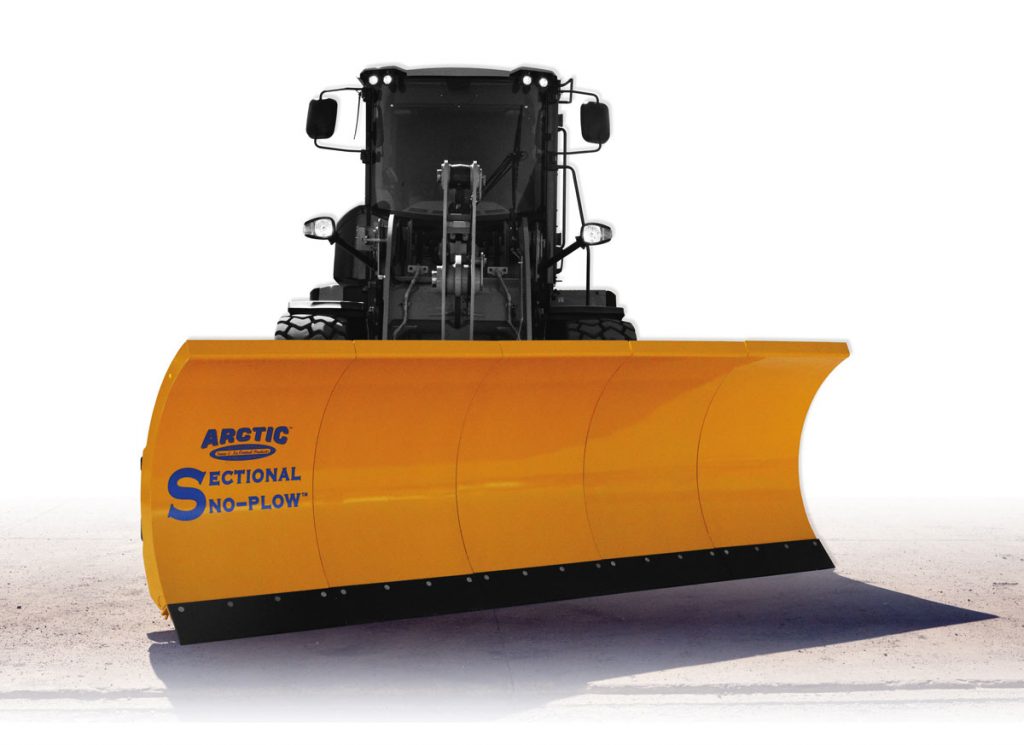 DoubleDown Salt Bucket™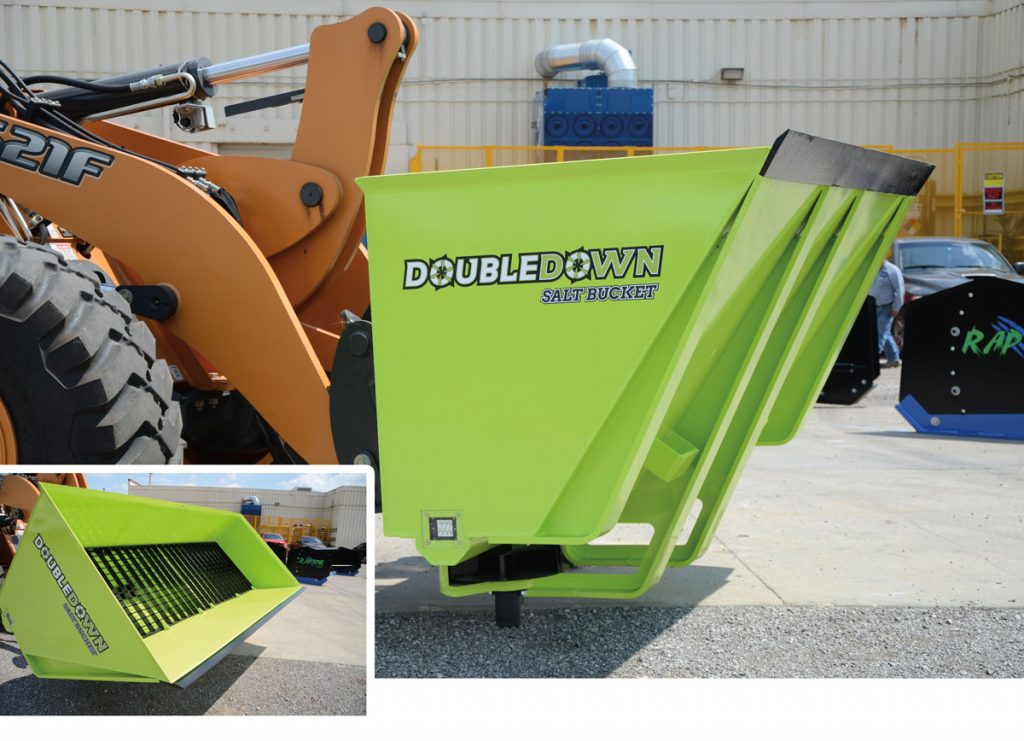 This is a salter's dream! Slip-Hitch™ equipped like all Arctic attachments, the operator will stay in his warm cab, drop the pusher when he is done clearing the snow, effortlessly pick up the Doubledown™, scoop up 3 ½ cubic yards of salt, rotate it level and start spreading. One pass through a parking lot, with double hydraulic spreaders, reaches a 80 ft. width underneath parked cars. Side lights make night spreading a breeze!
For more info about Arctic's line of products, go to www.arcticsnowandiceproducts.com.
Why Canada?
From a market standpoint, it only makes sense when you consider the difference in the weather. Last year's mild weather throughout the Midwestern and Eastern states have resulted in lower than expected forecast numbers. At the same time Arctic just completed a modernization effort that gives them the excess manufacturing capacity to meet considerably more demand for the full-line of Arctic products. This is a good time for new dealers to take advantage of early order program.