Historically, when municipalities have purchased snow equipment, their decisions have usually been based on price. There simply were not a lot of variables involved. There were no "special" plows that were dramatically more efficient, or reduced salt usage, or were that much safer for the operator. Nor could any claim that they were better for the environment.

Arctic Snow and Ice Products, Inc., headquartered in Frankfort, IL, a suburb of Chicago, is the company that is poised to change all that. Until recently, Arctic had but one product, the Arctic Sectional Sno-PusherTM. This pusher, also known as a box or containment plow, was designed for commercial snow contractors to use primarily to clear parking lots. Introduced more than a decade ago, it revolutionized the industry with a range of technology innovations that had never been seen before. Today, it has come to dominate the snow fleets of the largest commercial snow contractors in the United States, where every one of the 40 largest self-performing snow contractors has Arctic's "Sectional" technology represented in its fleet. This is proven technology. Originally built in 1995 for Arctic's own fleet of equipment, it went through 11 years of constant testing, refinement and punishing use, until finally released to the public in 2006. It is the gold standard of snow pushers and it is said that every one of its units ever sold is still in operation!
Recently, in response to demand from some major municipal customers, Arctic introduced the first power angled plow in a sectional configuration, the Arctic Sectional Sno-PlowTM. This product was designed for the open road where snow is guided to a curb, and it is being rolled out specifically to select municipalities for the 2019-20 season. It has been used internally by Arctic since 2016.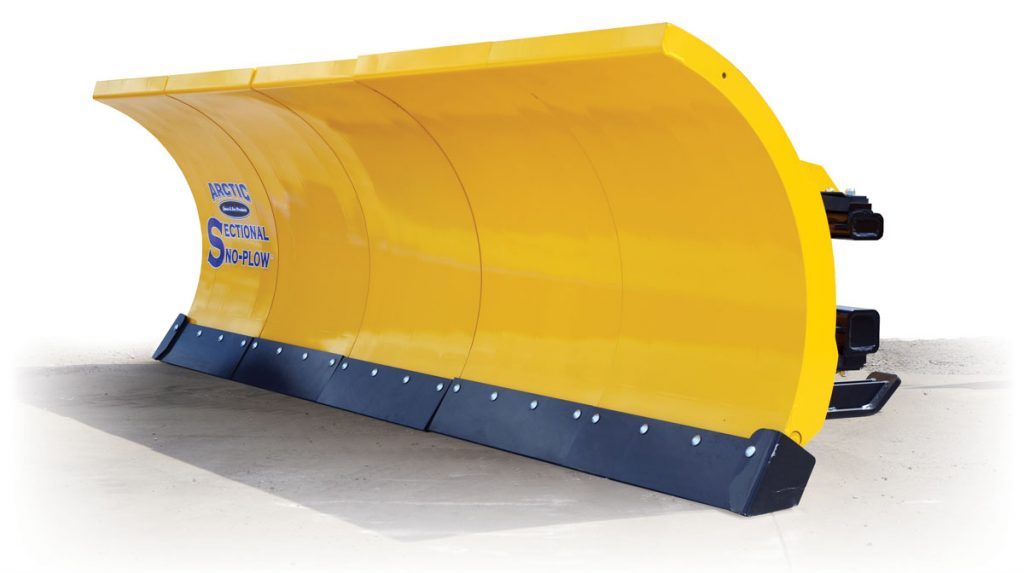 The key features of any Arctic Sectional are, of course, its segmented moldboards, which move up and down independently to contour to the surface of a road or parking lot, scraping it far more cleanly than any competing product. This saves considerable time, salt and fuel expense in the process, whereby it literally pays for itself in its first full snow season. Additionally, there are individual trip edges which allow the plow to move harmlessly over small obstructions like manhole covers without an operator even noticing. When larger objects are encountered like curbs, parking blocks or boulders, the segments themselves will float and clear these obstructions up to nine inches in height. They will do the same when they encounter a depression, dropping up to nine inches to get at hidden snow.
The effort that went into designing a high-performance plow yielded unforeseen benefits with regards to equipment and operator safety.
However, the technology improvements go beyond the moveable sections, and serendipitously this has led to a surge of interest in the overall safety ramifications inherent in the product. Although originally attracted to the Sectional's performance, 50% salt savings and ease of use, many customers were happily surprised to discover the product's tangible safety benefits. Not only was there less equipment and property damage reported, but workplace injuries associated with plowing were practically eliminated. Suddenly, snow contractors, and now municipalities, have a new way of evaluating their investments when it comes to selecting the right plows. Municipalities appreciate the 50% salt usage reductions because of concerns for the environment, where excess salt runoff into aquifers is a serious problem.
One thing about construction equipment that the general public may not know is that they are not built to absorb impacts the way cars are designed. Operators traveling at just 6-8 miles per hour have been catapulted through a front windshield after striking a manhole cover with a plow. There have been some truly sickening stories that we have witnessed in the past. When conventional pushers with their solid, unforgiving construction were the norm, commercial contractors accepted the inherent risks without a second thought. This is not the case anymore, since they are now understanding the ramifications of Arctic's Sectional technology. The effort that went into designing a high-performance plow yielded unforeseen benefits with regard to equipment and operator safety.
Arctic…is the only major manufacturer that is also a snow contractor.
For example, when the Sectional was designed, Arctic also wanted to make their plow easier to use as well as easier to maintain. First, a universal slip hitch mount was invented to allow the easy attachment of the pusher without chains and without the operator leaving his warm cab. It also created the world's only self-leveling plow, allowing for better traction as all four tires remained on the ground. Second, the assembly had no welds, just bolted parts, so anything could be replaced easily with a simple wrench if needed, making it easy to maintain. It also led to a much lighter platform capable of moving the same or more snow. Third, the tension on the up and down movement was accomplished with patented flexible polyurethane blocks instead of springs so as to be able to apply varying torque if desired to the cutting edges to get under ice and hard packed snow. These "polyblocks" were also meant to take all the punishment without being permanently deformed like metal springs under extreme conditions or transferring metal to metal impact forces back to the operator. These low cost blocks act like fuses which absorb all of the impact force until finally breaking, if necessary, to protect the rest of the assembly as well as the operator. Impacts that would have caused thousands of dollars in equipment damage now only required the replacement of one or more $50-60 polyblocks, which could be replaced in the field in 10 minutes.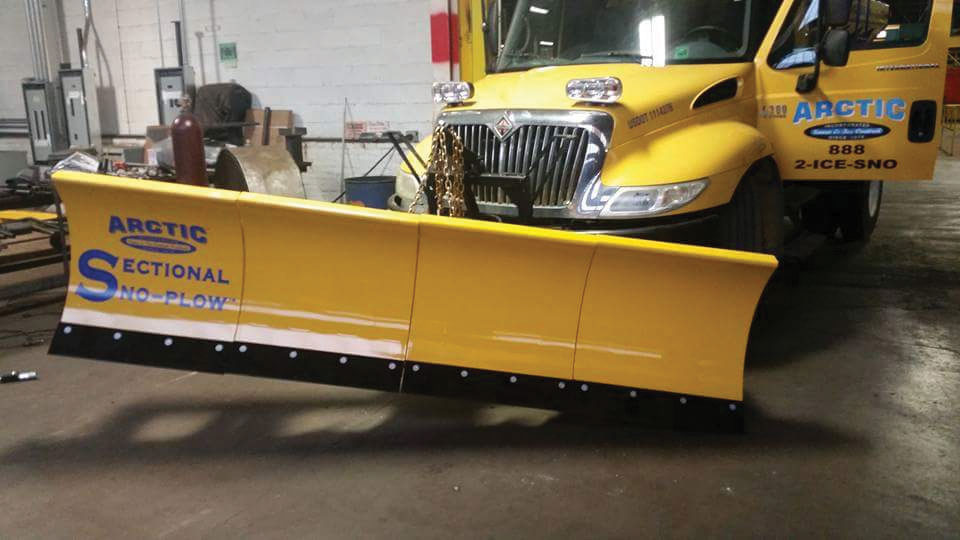 Not only did the blocks serve several purposes including contributing to equipment and operator safety, but the three features together allowed for a considerable amount of independent movement that worked harmoniously to add that extra level of protection to the operator during impacts. As an added benefit, as a result of a design presentation and demonstration to Arctic's insurance carrier, Arctic was able to dramatically lower their insurance premiums for their Workers Compensation Insurance in their service business.
A key to Arctic's lasting success is that it is the only major manufacturer that is also a snow contractor. Founder Randy Strait has operated since 1978 and is Chicago's largest snow contractor. In fact, he is the largest self-performing snow contractor in the United States with over 450 pieces of equipment. He came up with the idea for his Sectional Pusher in the early 90's and has been its chief architect from the beginning. If it not for the fact that his company's service business was his own testing lab, it would have been cost prohibitive for him to perform the amount of testing and refinement necessary to perfect his designs. Instead, operator feedback was solicited after every snow event and design modifications were implemented on a weekly basis. Today, Arctic owns a modern manufacturing facility in Bradley, Illinois that has evolved far beyond its competitors in terms of its ability to bring new products from the drawing board to the field in record time.
Municipalities should be pleased to know that their investments are well protected by a snow company that not only offers them a proven, reliable, efficient and cost-effective workhorse, but looks out for the welfare of those who operate it. For more information about Arctic's dual role as both a snow contractor and manufacturer, visit us at www.arcticsnowproducts.com and www.arcticsnowandice.com. Dave Peters is Arctic's Director of Marketing and can be reached at dpeters@arcticsnowandice.com.