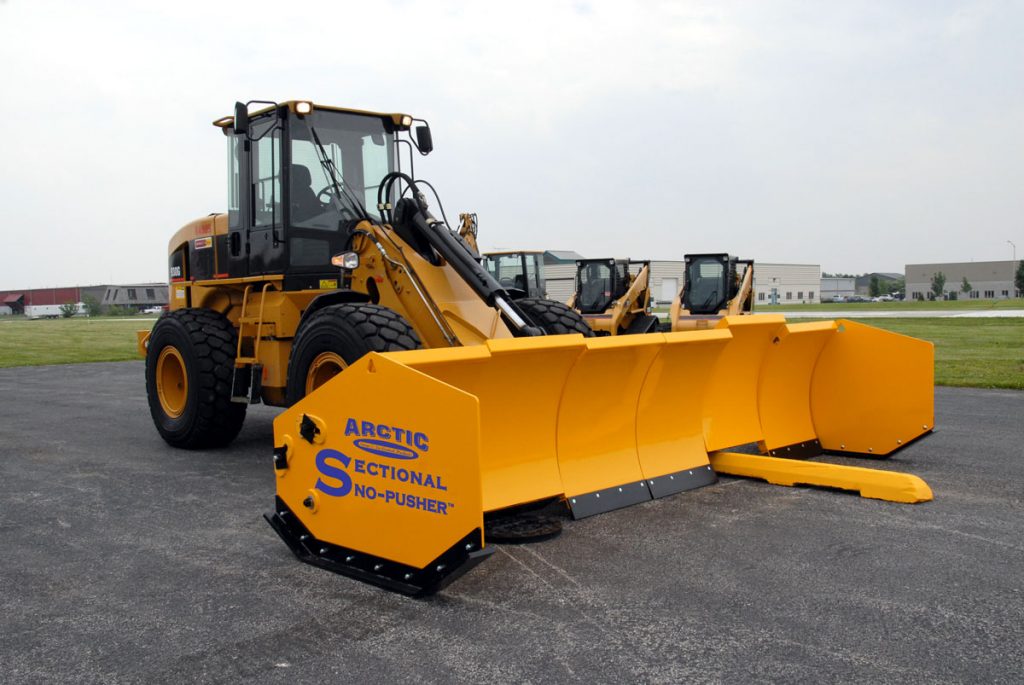 Arctic's Sectional Sno-Pusher™ has been one of the stars of the snow industry since its introduction in 2006, sparking a host of competitive designs but none which can reasonably duplicate its impressive performance profile. It can contour to uneven surfaces and clear obstacles up to nine inches in height and also go below grade up to the same nine inches to reach into depressions. It is also the only design with the ability to apply extra downward pressure (up to 30,000 lbs.) to the cutting edge, effortlessly cutting through ice and hard packed snow. Those with firsthand knowledge claim it provides the cleanest scrape, salt savings of 50 percent or more, the best hands-free universal mounting connection, the largest load ratio to plow size, and the safest and most forgiving design for machine, operator, plow and property protection. Its patented Slip Hitch™ provides the purest drop-and-go self-leveling solution in the industry, making it possible for rookies to plow like experts.
Arctic founder Randy Strait's inspiration for his pusher was the direct result of being a snow contractor. In 1982, a store manager wanted the area in front of his store cleared without salt. Randy's ten foot Protech pusher teetered on the crown of the road and so he tried his 6 foot Western blade on his pickup truck, each time getting a little more snow but still unable to get it all. The manager went inside and summoned six employees with six 30 inch shovels to stand next to each other and move in unison back and forth until the area was cleared. Randy noticed that the small blades were the key and from that experience, conceived his sectional design with 30 inch moldboards. He secretly built and used his first prototype in 1995.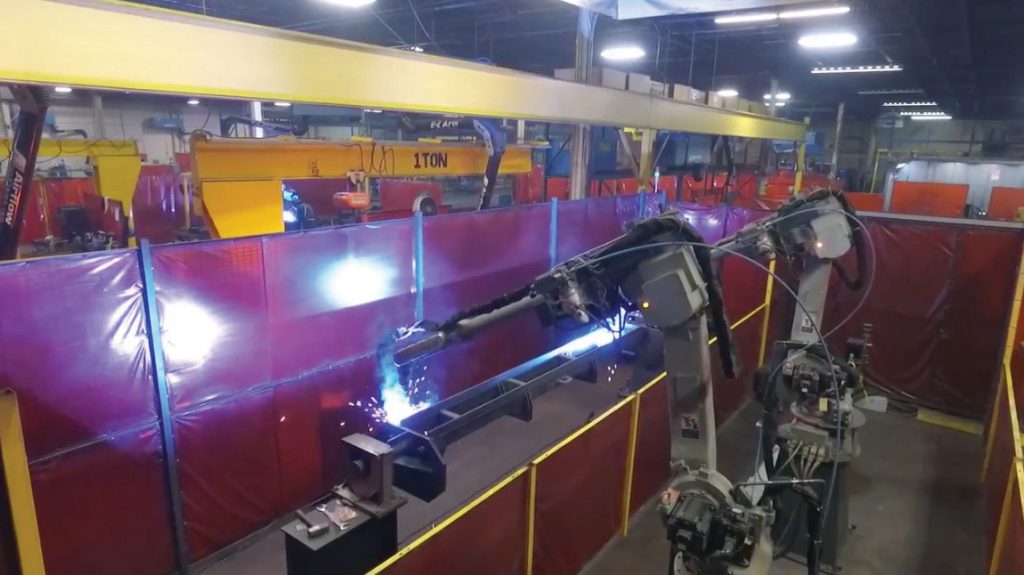 Over the next 11 years, Randy was constantly modifying and improving his design. According to Plant Manager Jeff Sexton, "Every time the fleet went out for a storm there would be feedback that would almost immediately be incorporated into the design. Going to the market in 2006 did not change a thing as far as the design process is concerned. We continue every year making countless almost imperceptible improvements to the product."
Of course, no traditional manufacturer could ever afford 11 years of field experience and testing to get a design right. However, that is exactly the reason that Arctic's designs have stood the test of time, and they will continue to improve just as they have every year since 2006. Arctic is celebrating its 40th anniversary as a year round snow contractor this year. All of its products were developed initially for internal use to satisfy a particular need, and the relationship of service to manufacturing is critical. According to Strait, "When end users reach out to us with questions about our plow, it is a very unique conversation, because they realize that we are one of them. They ask very specific questions about how things work in the field that no one without considerable personal hands on experience could possibly answer. The credibility that we have, and the bond that is created by that credibility, can never be overstated."
Today Arctic is the largest self-performing snow contractor in North America with nearly 400 pieces of equipment in their winter fleet, which is kept on the Arctic owned runway of the former Frankfort, Illinois airport, visible on Google Earth, the so called "mile of equipment". In fact, every year they replace their entire fleet of wheel loaders, skid steers and track vehicles with brand new models while they sell off their barely used fleet, marketing it under different names including buyheavymachinery.com and buysnowequipment.com.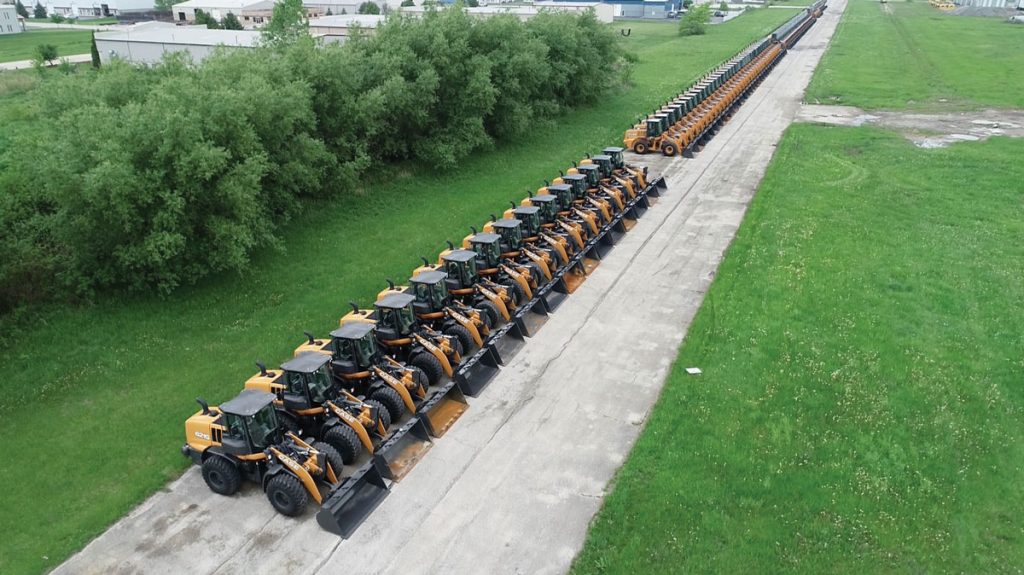 Recently, Mr. Strait entered a new battleground regarding the subject of liability burden, a subject that contractors in Canada may not face, but should nevertheless take note of.
Historically, U.S. snow contractors held the liability insurance coverage for personal and property claims, including slip and falls. Client contracts were written specifically with indemnification clauses that ensured that all liability was pushed down to the contractor. Eventually, the rising cost of slip and fall claims made insurance premiums unmanageable. As a result, there emerged a new type of national snow company with no snow equipment overhead signing unsupportable contracts across the country at rock bottom prices with the intention of subcontracting not only all of the work, but the complete liability as well. They knew that the small operators could not handle the larger properties and that there would be dangerous conditions for pedestrians, but that they were safe from lawsuit. This was in fact the very scenario being promoted by the industry's preeminent snow consultant. Under this model, an army of inside sales people, armed with online mapping and search tools, would offer ridiculously low bids to customers across the country. Not all property owners were aware of the end game, but many of the larger ones were culpable. The small unsuspecting subcontractors were either caught off guard by the contracts they were signing or were too desperate to care. When the snow hit, the slip and fall claims poured in and lives were ruined through bankruptcy. Insurance carriers started to notice as losses piled up. Many finally eliminated underwriting those policies altogether. At one point the state of New Jersey dropped from over a hundred carriers to just three. If that trend had continued, no contractor would have been able to afford to stay in business, and the brick and mortar stores in the northern states would have been forced to self-insure. Either way, the cost of doing business would have made it impossible for those retailers to compete with online marketers, and they would have had to shut their doors. This was the scenario that sent 40 top snow executives to Washington D.C. three years ago to talk to their representatives about these problems in their industry.
Recently, Illinois was the first state to pass the Snow Removal Service Liability Limitation Act (SB2138) designed to force both property managers and snow contractors to share equally in the area of liability protection from slip and fall claims. The Accredited Snow Contractors Association was the main lobbying body behind this legislation, crediting Randy Strait as a key motivating voice behind the effort. According to ASCA President Kevin Gilbride, "Randy Strait has been a key voice behind our efforts to effect positive legislative change to improve the industry for everyone, especially the small contractors who are most vulnerable to liability claim abuses being carried out by the national firms."
As a result of the new law, any clause in a snow contract that indemnifies one of the parties will be considered unlawful and therefore null and void. Once understood, property owners will likely seek a higher quality service, and perhaps visit the physical sites of snow contractors to see that they are adequately equipped for the task, since websites and brochures have often been wild exaggerations. Contractors will also be under more scrutiny in order to acquire their own insurance. To that end, ISO9001 accreditation has been achieved by about twenty contractors so far, including Arctic, but will become standard practice as contractors and customers realize its full benefits.
Arctic is a prime example of a company fully committed to their customers, products, industry, and even their competitors. According to Randy, "We would never be the success that we are, were it not for our competitors. I have many friends in this business and I want the good ones to succeed. We all started small and a number of people helped us along the way, people who truly made a difference in our lives. I believe in payback and there is nothing more satisfying than hearing others tell me how I might have made a difference in theirs."